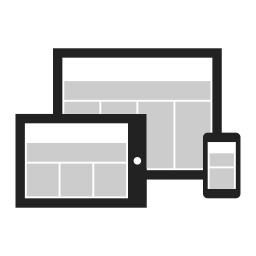 Your website is your most public representation of what you do…
Every project is unique so we take extra time getting to know you and your company so we can provide you with a harmonious solution.
We start by creating several mock-ups for the look and feel of your site. Once a final decision has been made on the look and feel, we add in all the content and other features to bring your site to life.
You will have complete control over your website's content through the content management system (CMS).
At least 1 hour of training is provided on all content management systems, which will help instill confidence in managing your site on your own.
Production time is usually 2-4 weeks, depending on the size of the project.
Start selling your products online with a robust online store…
We create several mock-ups and designs for you to choose from, or you may provide your own.
Unlimited products and countless configuration options that allow you to configure your online store just the way you want.
Includes fully managed website hosting and daily backups.
Dedicated IP and 256-bit SSL Certificate for secure transaction processing.
Several payment (eg. PayPal, Stripe, Autorize.net) and shipping (eg. FedEx, Purolator, CanPar) integrations are available for you to use.
Includes 2-3 hours of training, depending on the framework we use.
Production time is usually between 3 and 5 weeks, depending on the complexity of your products.
On-going maintenance plans are available which include product submissions to online indexes.
When your unique design requires some specialized coding…
Depending on the complexity of the project, we may choose from a variety of different implementation options.
Includes fully managed web and application hosting with daily backups.
Dedicated priority support (same day turnaround).
Includes up to 4 hours of training.
Production time: to be determined.
Some of our previous projects include custom plugins for Joomla and WordPress, ERP to website integrations, full website architecture & framework development, Windows-based applications built with Visual Studio, and command-line Linux applications.
Frequently Asked Questions

What is Search Engine Optimization and why is it necessary for successful website advertising?

At it's core, Search Engine Optimization (SEO) are the procedures required to fully optimize your online media such that your content ranks as high as possible in search engine results. This is based off of specific keywords that relate to your industry, and in turn your website.

What are Dedicated IP's & SSL Certificates? Do I need them and what are they for?

A dedicated IP gives you a permanent address on the Internet, which your domain name points to (eg. www.iaps.ca → 123.45.67.89). The SSL Certificate provides data encryption over the network, which ensures the data transmitted by your user's is not readable by anyone that tries to intercept it. You must have a dedicated IP to utilize a SSL Certificate.

What is fully managed web hosting?

Fully managed web hosting is best described as including 24/7 proactive monitoring of the hardware and software on your web server, along with tier 2 dedicated support, daily security patches and updates to the web server's software and daily backups of all your website data.

How are the look and feel of my website determined?

You may provide an Adobe Photoshop (.psd) or GIMP (.xcf) layered file, which we can use to style your website. If you don't have a design, we can design something for you. You may also provide websites URLs as examples of how you envision your website to look.

What can I do to increase traffic to my website?

Be your website! Spend time with it each day, provide frequent updates, brainstorm new ideas for new content and images, add a website chat service that is non-intrusive to your visitors, create promotions, join and participate in social networks, and ensure your website meets current coding standards and principals. Content is #1! Make your website the wiki of your industry.

What is Online Paid-Advertising?

There are other forms of online paid-advertising, but the following are some of the most common: PayPerClick (eg. Google Adwords), where you bid on specific phrases, Banner Advertising & Re-Targeting (eg. AdSense), when your ad follows past visitors from site to site, and Paid4Clicks (eg. AdSense), when you display ads on your site for other companies products and/or services. Continue reading about Online Marketing & Advertising →